If you're looking for a new cooktop, you've got some options. There are a few different heating methods used for cooktops, including gas and electricity, but many people are not aware there is a third option available known as induction.
In fact, there are plenty of advantages when comparing it to gas or electric ranges. In this article, we'll show you some benefits of induction cooking.



What is an induction cooktop?
Meet induction, the latest breakthrough in cooking technology. Induction cooking is a perfect combination of unbeatable precision, power, and safety.
An induction cooktop uses an electromagnetic field to heat the cookware directly rather than heating the hob and the air around it. 
As a result, induction cooking is energy-saving and keeps your kitchen staying much cooler than cooking with gas hobs or radiant hobs. Induction is also safer than other conventional forms of cooking and offers you better control over the cooking.


What are the benefits of induction cooking?
Power and Speed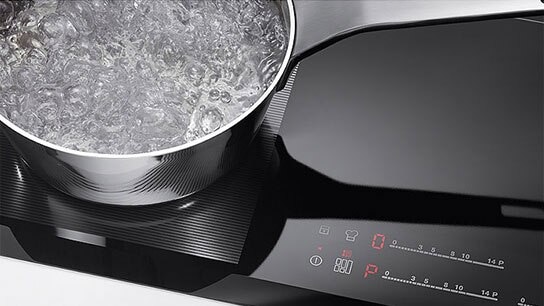 Designed for professional-grade power and performance, Electrolux induction hobs can boil 1 liter of water in just 3 minutes.
If you cook food with an induction cooktop, heat is not transferred through the cooking surface or by an open flame but is generated directly in the metal of your pots and pans.
Thus, you can chop off up to 50 percent of your cooking time with ease. And because an induction stove can utilize almost all energy for cooking, it is more powerful than its gas and electric counterparts as well.


Precise Temperature Control
Gas or electric hobs need quite some time to reach the expected heating level. In contrast, Electrolux induction stoves provide precise temperature control that allows you to go from high to low heat instantly so you will never undercook or overcook again.


Easy to Clean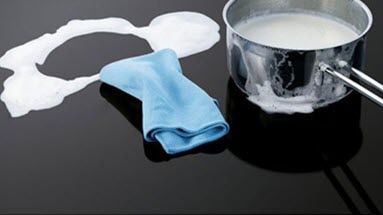 Like radiant cooktops, induction hobs come with a glass surface. However, induction cooking does not heat the cooking surface, so there will be no spill, splatter, or over-boiling marks on the hob surface. Thanks to that, the cooking surface always stays smooth and can be cleaned effortlessly.


Cool Touch and Safety
Because of the unique operating principle of induction hobs, only cookware gets heated up and the cooking surface can cool down in no time. Also, there's no fire involved. Therefore, an induction hob can reduce the risk of fire hazards or burns to the minimum.


Easy to Use
Induction cooktops only work with cookware made of or containing ferrous metals such as cast iron or stainless steel. But you don't need to guess which pot you can use: if you see a coiled spring symbol or a magnet sticks to the bottom of the pan, it works.
Click here to read more frequently asked questions about Electrolux hobs!
Why choose Electrolux induction cooktops?
Electrolux always strives to adopt the latest technology and at the same time keep users at the core of the development process. You can find Electrolux induction products integrated with great features that satisfy all your cooking needs, from simmering to searing heat.
Electrolux also pays close attention to the safety of you and your family by providing features such as a hot warning indicator, a child-lock combination, and a unique auto-off function to prevent potential accidents. All of this combines to bring the best cooking experience to your kitchen.
Browse our wide range of ultimate induction cooktops from Electrolux:


SenseFry adjusts heat for even frying results.
Select the bridge function to combine two zones.
PowerBoost provides quick, intense heat.
Select the bridge function to combine two zones.
PowerBoost provides quick, intense heat.
Induction is safe, fast, and energy efficient.