The everyday comfort air conditioners give us in our homes is an essential part of modern living for many people, especially in countries with high temperatures all year round. However, many people don't know how important it is to regularly clean air conditioning units in order to keep them running well and providing you with cool and clean air.

In this article, we will show you, step by step, how to properly clean the inside and the outside units as well as the filter of your air conditioner.


Before you start cleaning your air conditioner
The golden rule of air conditioner cleaning and maintenance is: Always follow the manufacturer instructions in your air conditioner's user manual. And if you're unsure about whether you can do the job yourself, it's better to hire a professional to avoid damage to the appliance.

How often you should clean your air conditioner depends very much on your air conditioner usage as well as the location of your home. As a rule of thumb, cleaning your air conditioner once a year is a good routine that will help you prevent large buildups of dust and grime. If you live in a heavily polluted city and/or use your air conditioner around the clock, however, you may want to clean your air conditioner and especially the filters more often, maybe twice or even three times a year.

Here's what you will need for cleaning your air conditioner:
Rubber gloves
Air conditioner fin tool
Air conditioner coil cleaner
Face mask (if you're allergic)
Turn off the power supply to your air conditioner
To protect yourself from unlikely electric shocks, turn off the power to your air conditioner at your breaker box. Should your lighting be connected to the breaker, make sure you have adequate lighting for your task.
Wipe out the exterior
The air conditioner's exterior can get dirty over time, so be sure to wipe it down with a damp cloth every few months.
Clean the area around the air conditioner's outside unit
To ensure optimal air flow for your air conditioner, make sure that the area around it is clear of any obstructions.
Vacuum the outside unit
How much dirt and debris you should expect to find inside your outside air conditioning unit depends on the makeup and where it is situated. If it is in a relatively sheltered place, the debris should be minimal, while a more exposed placement and a more open construction may lead to seeds or twigs finding their way inside. You can easily clean the container by hand or use a wet and dry vacuum cleaner.
Schedule annual cleaning and maintenance
While it is important to do basic cleaning at home, don't forget to schedule annual cleaning and maintenance with professional technicians. This will ensure that your air conditioner operates smoothly and lasts longer.
Check out more tips to clean your home appliances from Electrolux:
Enjoy fresh air with a clean air conditioner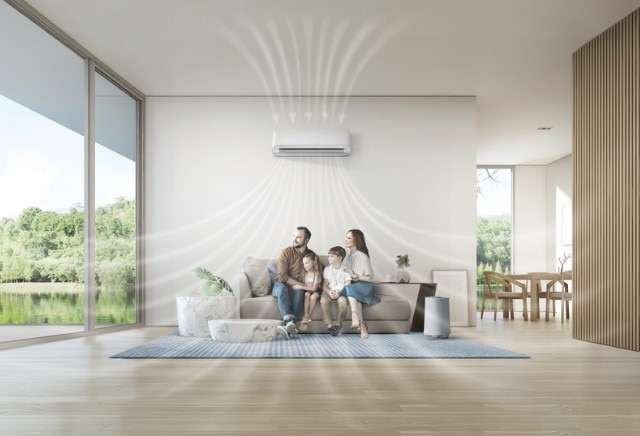 If you follow the steps on how to clean your air conditioner above and regularly perform a cleaning, you will not only extend your appliance's life but also improve the quality of the air you breathe inside your home. While this is especially important for people with allergies, everyone will breathe more easily with a sparkly clean air conditioner in their home.

You may also consider buying a Electrolux air conditioner with the i-Clean feature. i-Clean uses condensation to flush the unit clean, followed by a quick fan dry for a few minutes. This prevents any build-up so there is less need for frequent cleaning.

Find the support you might need for your Electrolux air conditioner.
FAQs about cleaning your air conditioner at home