Did you know that in the last five years, the global market for multi-door refrigerators has grown by approximately 3.5%1? There are plenty of great reasons for their ever-increasing popularity, from spacious storage capacity to advanced food preservation technologies, and even sustainability benefits. If you're looking for a new refrigerator, this article is a must-read.
Here, Electrolux evaluates the advantages of a multi-door refrigerator to help guide your purchase choice.


What is a multi-door refrigerator?
Unlike a standard top-freezer or bottom-freezer refrigerator, a multi-door refrigerator was designed with a modular approach to provide you with better organisation, accessibility, and energy efficiency.

This usually has two doors at the top, and a freezer drawer, or two freezer doors, at the bottom. Some models even have a middle drawer.

Its generous interior can store wide items, while its adjustable shelves and compartments offer customisable storage. It also raises the fridge at eye level, so you won't have to strain your back when getting essentials.
6 reasons to choose a multi-door refrigerator
1. Large storage capacity


With an expansive fridge space, a multi-door refrigerator can accommodate the storage needs of large households. From grocery hauls, weekly meal preps, and party platters – everything will fit, often with room to spare.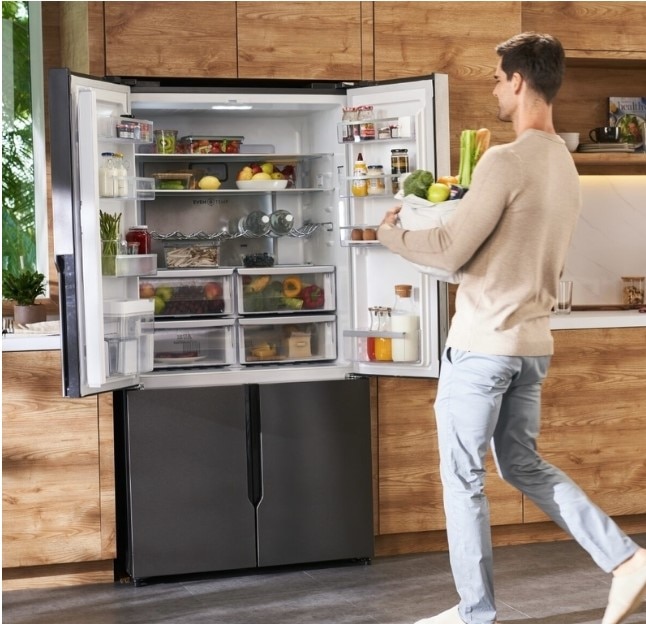 2. Enhanced organisation


Generous space is optimised with flexible storage. Adjustable shelves and door bins provide customised storage of differently sized items, from tall bottles to small condiment jars. Additionally, separate compartments for fruit, vegetables, and dairy products allow tailored storage according to specific preservation requirements.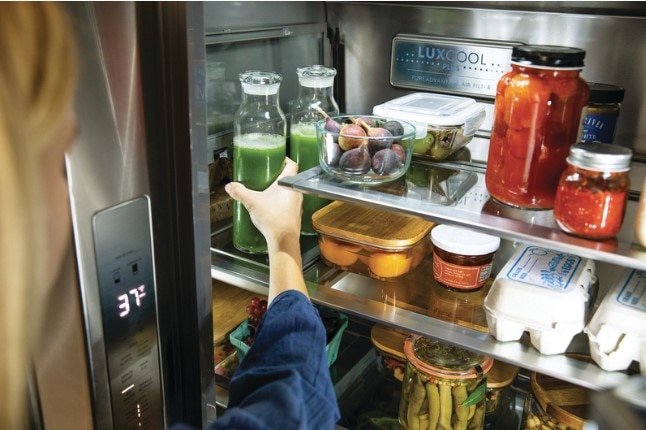 3. Temperature control

More advanced multi-door models feature temperature-controlled compartments designed for specific food and beverage storage needs. Some even allow you to adjust the temperature for more precise food preservation.


4. Space efficient

Another advantage of a multi-door refrigerator is how it can open up your kitchen space. When swinging open, narrow doors allow greater clearance area, making it ideal for kitchens with tight entry points or kitchen islands.


5. Energy efficient

The narrow doors also allow less cold air to escape when opening, preventing the fridge from consuming more energy to recover the optimal temperature.


6. Added convenience

Many multi-door refrigerators include integrated ice makers and fridge-door water dispensers for fast, easy refreshment.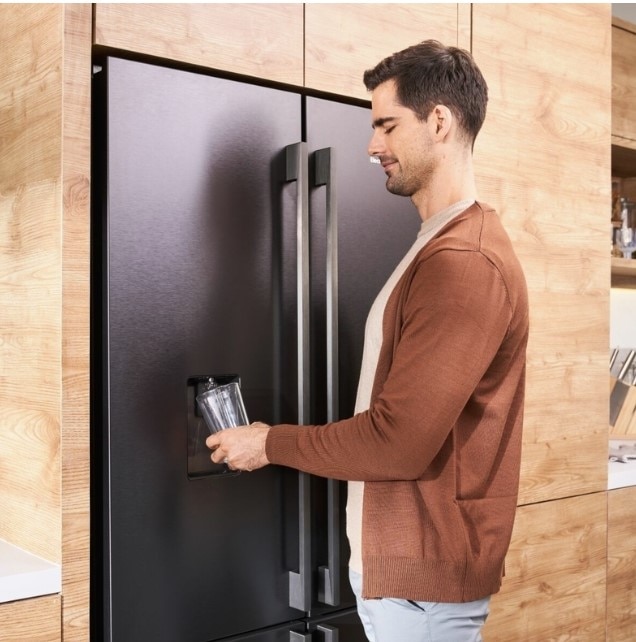 Things to consider when buying a multi-door refrigerator
1. Price

Considering its larger capacity, space utility and advanced features, a multi-door refrigerator is on the pricier end. Prices can range anywhere between Rs 25,000 to over Rs 45,000. For a worthwhile investment, make sure you're choosing a durable, energy-efficient fridge from a reputable brand that will last you for years. Be on the lookout for promos or seasonal sales, look for rebates, and verify your warranty.


2. Your household and lifestyle

Imagine the food and beverage items that will need to fit inside. A one-size-fits-all approach will not work out when choosing a refrigerator – you should also consider the size of your household and your lifestyle needs against the capacity of the refrigerator.
| | |
| --- | --- |
| Household size | Refrigerator capacity / volume (litres) |
| 3-4 people | 350-530 litres |
| 5+ people | 440+ litres |
3. Installation

If you're fine with having the sides of your refrigerator exposed, simply ensure there is sufficient clearance around the appliance and a nearby power socket (and plumbing if needed) for a fuss-free installation.

For a more stylish, streamlined look, ensure the refrigerator fits inside your kitchen fridge recess with minimal surrounding gap. Depending on the model, it can either extend slightly or look built-in with the cabinetry.


4. Your kitchen aesthetic

How should the finish of your refrigerator work visually with your cabinetry? For white and lighter coloured cabinets, a stainless-steel finish will complement the fresh and bright space. If you have darker kitchen decor, a dark stainless-steel refrigerator will look stunning.


5. Energy consumption

With a larger capacity than a standard fridge, multi-door refrigerators tend to use more energy. As a solution, choose one with energy efficiency features such as an inverter or temperature-regulating technology. Having more doors will also assist in saving energy.


6. Disposal of your old fridge

Check if the brand of your old refrigerator offers recycling programmes. If not, consider selling it, donating it, or contacting a local recycling centre.

Read more tips & tricks when buying new fridge: Refrigerators buying guide
Why consider an Electrolux multi-door refrigerator
Trust in cutting-edge food preservation technology to keep your food bursting with flavour and preserve vitamins and textures — for longer, with less waste, and as nature intended.


1. Next-level food storage

The custom four-drawer food compartment includes two drawers for fruit and vegetables, one for chilled and frozen goods, and one for dairy products — each providing optimal storage conditions for their specific preservation needs.


2. A drawer for almost anything

Can't find a place for excess items? Whether for drinks, dairy, or even fresh meat, the TasteSealPlus Drawer adapts its temperature to your storage needs. It even retains protein levels at up to 98% for up to 3 days2.


3. Freshness and nutrients, locked in

Sealed TasteLockAuto Crispers automatically control humidity to keep fruit and vegetables fresher for longer. They also retain the Vitamin C content for up to seven days3.


4. Exceptional energy efficiency

The inverter compressor maintains a constantly cool environment, so your refrigerator will consume less power.


5. Seamless kitchen integration

Some Electrolux refrigerators are designed to sit flush with kitchen cabinetry for a sleek and sophisticated aesthetic.


6. Fresher for up to 5 times longer

Together with your refrigerator, use Electrolux vacuum-sealed food containers to help you enjoy more taste with less waste. These clear, stackable containers also allow you to easily monitor food contents and help you optimise organisation, further reducing food waste.

Browse our wide range of premium multidoor refrigerator available in India:
Multi-door refrigerators FAQs
1. How to organise a multi-door refrigerator

One of the advantages of a multi-door refrigerator is enhanced organisation. Unlike a single-door refrigerator, you have more space and an array of storage features to work with.

Take advantage of adjustable shelves and bins and find a configuration that provides you with optimal visibility and accessibility. Neatly compartmentalise condiments and drinks in door shelves. To further maximise space, consider fridge organisers such as soda can dispensers, egg holders, or turntables.

2. How do you maintain a multi-door refrigerator?

If your refrigerator has a water and ice dispenser, replace the water filter as recommended by the manufacturer for continuously clean water and ice. To optimise energy efficiency, install the fridge away from direct sunlight or heat-generating appliances, which can place strain on the compressor. If your fridge has a boost function for quickly chilling items, ensure that it returns to the previous temperature to prevent excessive energy consumption.

>>> More helpful tips to take care of your refrigerator:


3. How long does a multi-door fridge last?

A refrigerator can last anywhere between 10-15 years, depending on the brand, model, and how well it is maintained. Make sure to schedule deep cleans every three to four months, and consult a professional immediately should any issues arise.

1Euromonitor global market estimate, volumes, excluding China; major appliances by format.

2Test by Intertek Thailand Laboratory on protein retention in beef after 3 days storage at -2°C.

3Tests performed by SGS Thailand laboratory on vitamin C retention in blueberries after 7 days storage in TasteLockAuto compartment. Tested model EQE5657BA.