It may have been a while since you have been in the market for a new refrigerator, whilst their purpose hasn't changed, there is new technology to keep your ingredients fresher for longer.
With more style and configuration options on offer, we want to help make the decision process easy by creating this helpful refrigerator buying guide. Read on to find helpful tips on how to choose a new refrigerator.
1. Refrigerator size & capacity
When choosing a refrigerator size or capacity, you will firstly need to think about what fits in your cavity space.
Whether you are living in a family home or with housemates, the amount in your household will affect what is ultimately the best refrigerator capacity for you. If you are on the fence about whether to go bigger or smaller, we advise you to go a little bit larger than you think as you may, at different times of the year, run out of space.
| | |
| --- | --- |
| Household size (number of people) | Refrigerator capacity/volume (litres) |
| 1 - 2 people | 200 - 380 litres |
| 3 - 4 people | 350 - 530 litres |
| 5+ people | 440+ litres |
Read more:
2. Types of refrigerators
French door refrigerators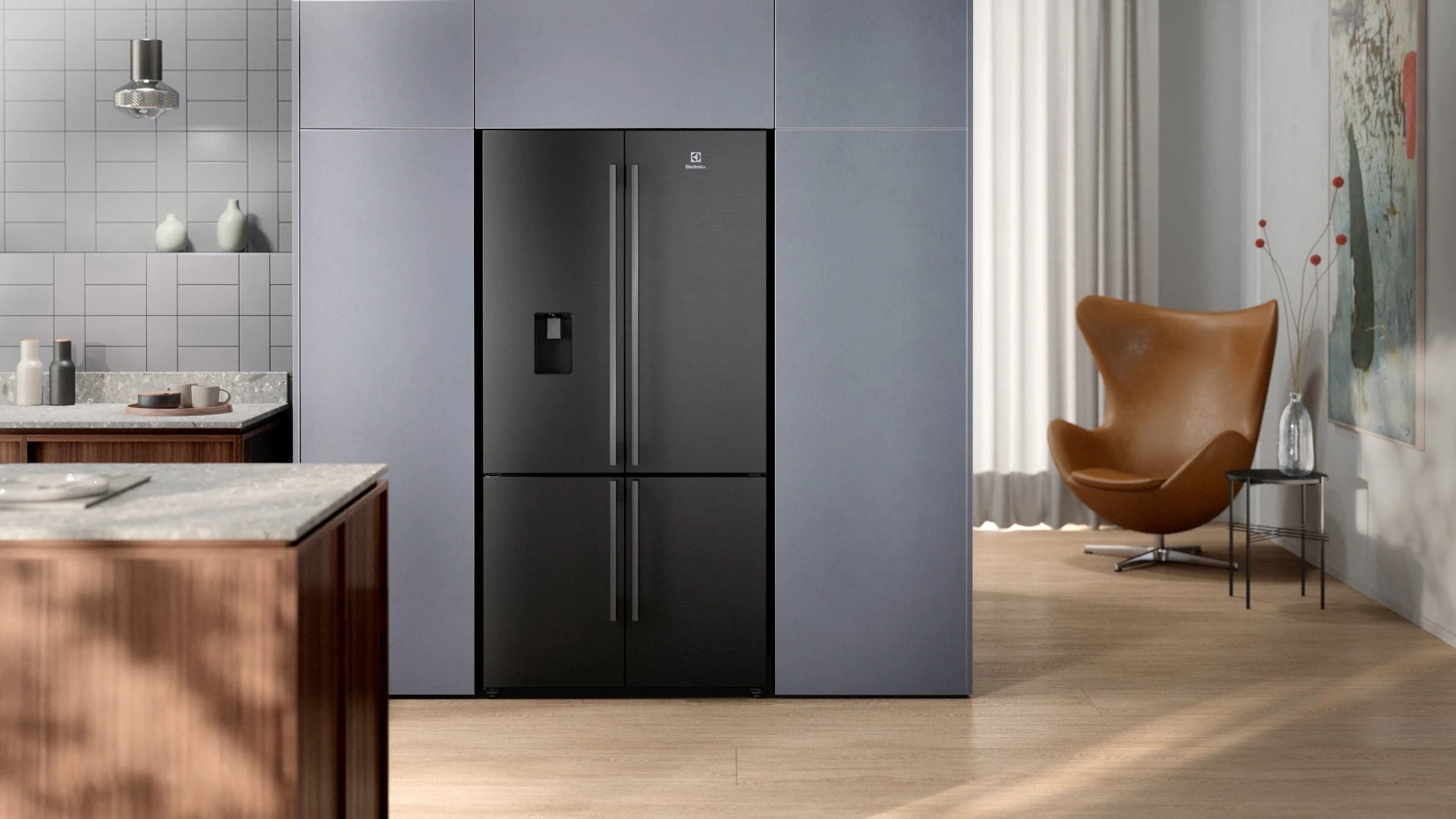 French door refrigerators are the large capacity refrigerator freezer appliance perfect for any home. They come with plenty of storage and style options such as adjustable storage, as well as ice & water dispensers.
You can configure these into three sections - two refrigeration sections and one large freezer or two refrigeration sections and two freezer sections. Some models include a middle drawer which can be converted from refrigerator to freezer.
Ideal for:
Large family
Large kitchens
Entertainer
Here are some features that Electrolux French door fridges offer:
Fresh tasting ingredients for longer
TasteLockAuto maintains a humid environment to keep fruit and vegetables fresh with flavour for up to 7 days. A membrane automatically releases excess moisture to reduce condensation and stop your produce from spoiling early.
TwinTech Cooling
The TwinTech Cooling includes two independent cooling systems that work together to keep your fridge functioning smoothly.
One system keeps your freezer chilled, while the other controls the temperature and humidity levels.
TasteSealFlex compartment
Electrolux French door refrigerators come with TasteSealFlex convertible compartment which is easily adaptable to the temperature you need. You can now store everything from fresh vegetables to tender meat and fish, or cold drinks and ice cream.
Also, you can always find the right space to store your food by selecting one of the five temperature settings from -23°C to 7°C. Your meat and fish are kept fresh and tender for up to 7 days by storing at -2°C.
Clean and hygienic storage 
TasteGuard deodorizer uses a carbon filter to keep your fridge fresh and hygienic. It also effectively removes odours that can change the taste and smell of your food. 
Dark Stainless
You want your kitchen to survive the ever-changing trends by choosing timeless design elements and classic materials that will look good today and in a decade. You can incorporate dark stainless steel appliances into your plans, taking your kitchen in a fresh new direction.
Keeping your refrigerator clean of fingerprints
Whether there are little fingerprints in your household or just adult ones, we know fingerprints on your refrigerator are a problem in every family. We have made selected refrigerators with fingerprint-resistant stainless steel, maintaining a picture-perfect look for your refrigerator at all times.
Check out our French door refrigerators:
Bottom freezer refrigerators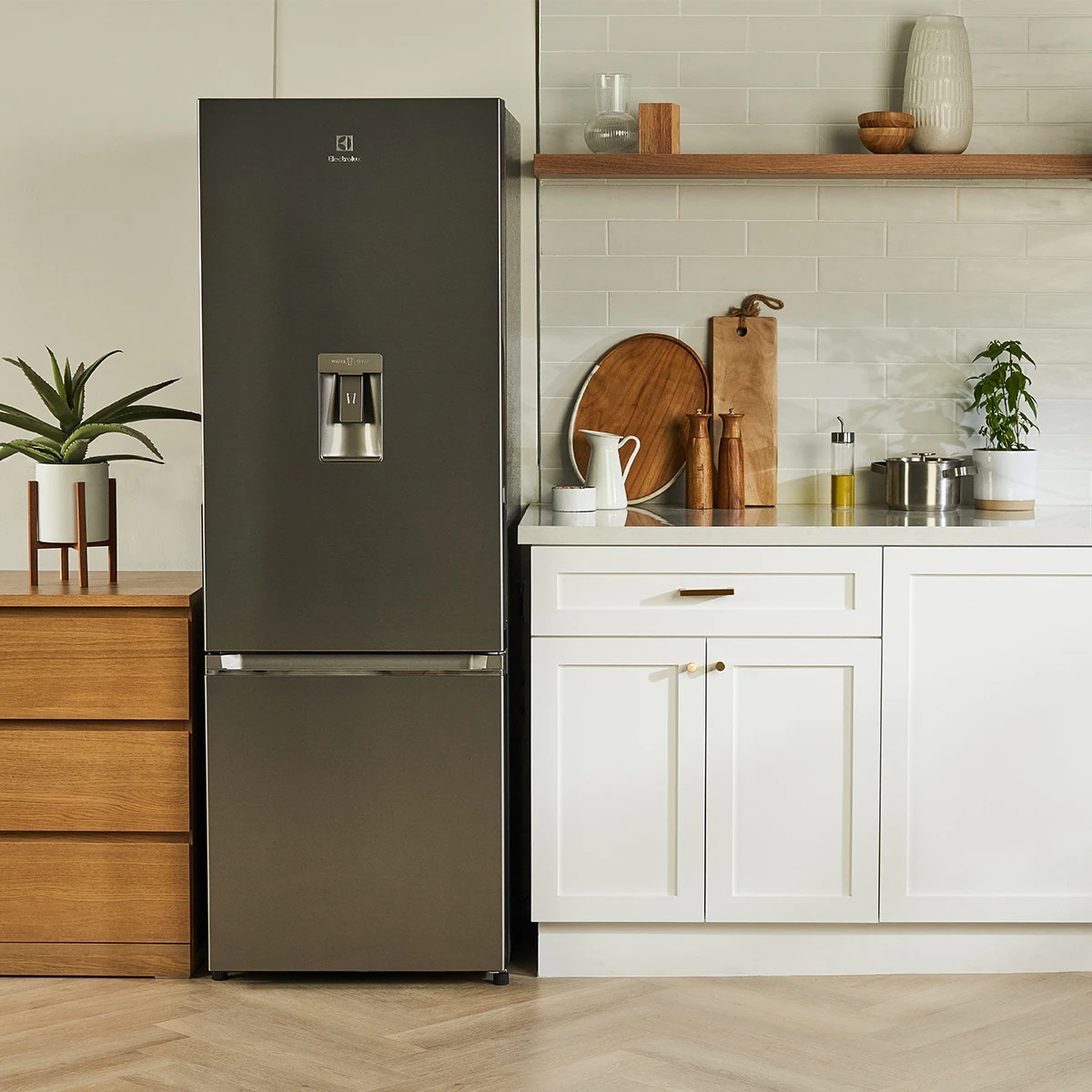 A bottom freezer refrigerator is perfect for a small family or apartment living where your space is limited. Coming with quite a few features seen in large capacity refrigerators, this layout is perfect for someone who wants easy access to their refrigerator over their freezer.
Ideal for:
Small family
Apartment living
Share house
Here are some features that Electrolux bottom freezer fridges offer:
Fresh tasting ingredients for longer
Enjoy tender meat and delicious seafood with fresh ingredients. Our TasteSeal compartment retains a consistent condition of -2°C to keep your meat and fish in prime temperature for up to 7 days without freezing.
Know your temperature
Our EvenTemp feature preserves your food fresh for longer by minimising temperature fluctuations. By keeping each shelf cool individually, a consistent temperature condition is well-maintained throughout the entire compartment, keeping delicious taste and texture for longer.
Conveniently store your fruit and veggie 
TasteLock allows you to adjust humidity levels in your crisper to keep your fruit and vegetables fresh and tasty for longer. 
Freeze your favorite flavors
The spacious freezer allows you to store your favorite foods in bulk, as well as plenty of ice for refreshing cool drinks. 
Electrolux bottom freezer refrigerators also comes with the following features, besides the ones that are mentioned above: 
TasteSeal compartment 
TasteLockAuto 
TasteGuard 
WaterStream: allows you to effortlessly grab a chilled glass of water directly through the fridge door. Also, with a 4L water tank, you can pour 16 glasses of water before needed to refill. 
Check out our bottom freezer refrigerators:
Top freezer refrigerators
A top freezer refrigerator is a more traditional layout of single door refrigerator with the freezer placed at the top for eye level access for your frozen ingredients or treats. This style of refrigerator would be suitable for a small family or apartment living where you access your freezer quite regularly.
Ideal for:
Small family
Apartment living
Share house
Capacity
230 - 536L
Here are some features that Electrolux top freezer fridges offer:
Hygienic, convenient storage
The stainless steel tray is easy and simple to remove and wipe clean. It also ensures a hygienic and fresh condition for your meat and seafood.
Fresh filtered water and ice
Serve yourself with chilled water and crushed or cubed ice through the refrigerator door anytime you need a refreshing drink.
Electrolux top freezer refrigerators also comes with the following features, besides the ones that are mentioned above: 
TasteSeal compartment 
TasteLockAuto 
EvenTemp 
TasteGuard 
Check out our top freezer refrigerators:
*Disclaimer: Pictures are for illustration purpose only and not necessarily the products that are sold.